GALLERY 2 - The Bacardi Mural
This website is maintained by the Gattorno Foundation. Terri Cabral, President, holds the copyright for ALL Gattorno images. Use and reproduction of Gattorno images without permission is illegal. Violators will be prosecuted to the full extent of the law. Permission can be granted to use the images. Please email The Foundation for permission.
Commissioned by The Bacardi Company in 1937 for their room on the 35th floor of the Empire State Building, the mural was relocated to the Bacardi Headquarters in Miami, Florida on Biscayne Blvd. in the 1960's. In 2008 it was removed from the Biscayne Blvd. building and relocated to the Bacardi Headquarters in Coral Cables, FL.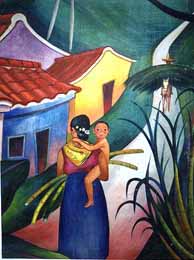 The smaller image is a fragment of the mural that was removed due to space restrictions when Bacardi moved the mural from the Empire State building in the 1960's to the offices in Miami, FL and was lost for many years. It was found in 1997 in a private collection and sold in auction in 2007. Originally this portion of the mural was to the left of the couple on the horse and wrapped around the wall.
---


Interesting anecdotes and pictures about the painting of the mural can be found in the book "Gattorno - A Cuban Painter For The World" by Sean M. Poole.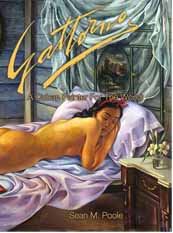 Click on the button to view your Paypal cart


---