Artist's Bio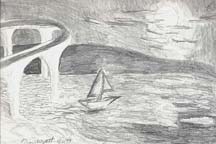 Name: Kim Wyatt

Art Category: Contemporary Representational Art

Artist Bio:

In 2000, her first year of exhibiting her art Kim Wyatt's art was included in the Del Mar Fair's Art Exhibition. She was also awarded two commissions for outdoor banners to paint for the Port of San Diego's first annual Airport Banner Art Contest. The banners she painted are on display, in parking lot of the San Diego International Airport till the end of the year. Afterwards they will remain in the Port of San Diego's permanent art collection.

Her work is included in the Traveling art exhibition "Tri Americas…We're all in it together". A group of work juried from artists living within the American Continents.

Kim Wyatt was born in San Diego County in 1967. She still makes the region her home. She studied art in High School and in college. She attended Grossmont Community College and San Diego State University.



Artist Statement: Innocence and ignorance. These are qualities, which I feel are undervalued today. I welcome them into my art and explore them with color shape texture, technique and subject matter. I use them to convey that perfect moment of emotional realization. A child beholding the power of the thundering turfs. A woman confronting the complexity of herself. Even a simple animal symbolizing a pure anthropomorphic emotion, expression or personality.

I choose bright clear colors for my paintings because I find them uplifting and expressive. I work quickly to maintain the mood of each piece and I allow my feelings to flow into my work. My typical mediums are watercolors, acrylic paints and ink, alone and in mixed media applications these all deliver the color intensity and immediacy I need in my art.

My Geographic Location: El Cajon, CA. USA
El Cajon is located in the east county area of
Southern California's San Diego County Region.
I've lived here in the San Diego area my entire life.