GALLERY 4 - "La Siesta"
This website is maintained by the Gattorno Foundation. Terri Cabral, President, holds the copyright for ALL Gattorno images. Use and reproduction of Gattorno images without permission is illegal. Violators will be prosecuted to the full extent of the law. Permission can be granted to use the images. Please email The Foundation for permission
---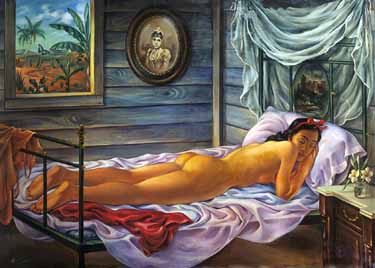 Oil on Linen - 1939
Begun late in 1939 and completed in 1940, this masterwork is often called the "Mona Lisa" of Cuba. It is perhaps one of the finest examples of the work of the Cuban "Vanguardia" painters, of whom Gattorno was indisputably a leader. It is a transitional painting for the artist as he moves from his primitive phase, into what he described as his period of "Surrealistic Romanticism of Classical Discipline."
---